Roll labels are a convenient and economical way to promote your company, products, events, and messages. Roll Labels are available in virtually any size, material, and adhesive, with printing up to 10 colors. Rolls are easy to manage and can be affixed either by hand or machine. Nova Label offers roll labels to meet your labeling needs with our extensive inventory of materials and printing options; your roll labels will come out exactly as you specify.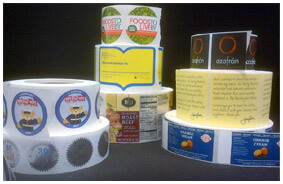 Label Types:
We produce labels for a variety of industries, from industrial to consumer applications, and many more. We use the highest quality of materials so your labels can stand out with crisp graphics and superior readability.
Direct Mail
Bar Coding
Shipping Labels
Warning Labels
Promotional Use
Industrial Labeling
Consumer Products
Warehouse Inventory
Food and Beverage Labels
Process:
Nova Label operates four (4) flexographic presses that will custom print, varnish, laminate, cut, perforate, or sheet labels to your specifications. Three of the flexographic presses have a maximum web width of 10," and the 4th press has a 20" web width.

We operate an inkjet digital hybrid press with a maximum print width of 8.5" and can incorporate flexo printing where digital color cannot be matched. The hybrid press will also provide lamination, die-cutting, perfing, and sheeting finishing.
Capabilities:
Roll labels work with many label sizes, shapes, and printing techniques, making them an ideal labeling solution for many projects. If you need a certain number of labels on a roll, we can meet your specifications.
Finishes:
Lamination
Spot or flood varnishes
Materials:
We carry a variety of paper and film materials with assorted adhesives in-stock to achieve a variety of label looks and purposes. Not only do we care about how your labels look but also their performance. If your labels face harsh conditions, like moisture or friction, we have durable label materials that will stand up to the challenge.
Label Options:
Process Color
Indoor or outdoor use
Screen and flexographic printing
Custom die-cutting or butt-cutting
Roll Label Shapes:
Oval Roll Labels
Circle Roll Labels
Square Roll Labels
Butt-Cut Roll Labels
Rectangle Roll Labels
Special Shape Roll Labels
Custom Shape Roll Labels
For all your Roll Label needs, Nova Label provides you with reliable turnarounds and scheduling to handle any project from simple to complex. Contact Us to discuss your roll label project.